Asthma Friendly Schools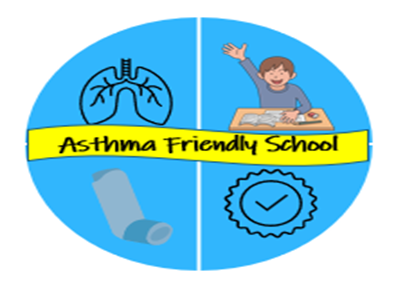 The Paediatric Respiratory Specialist Nursing Team are inviting all schools within Frimley Health Foundation Trust to achieve 'Asthma Friendly School' status. This is part of our strategy to improve the management of all children with asthma throughout Frimley Health.
National statistics show that, every year a classroom worth of children die from asthma. Critically 90% of them could have survived if pre-existing risk factors were identified and addressed by the agencies already involved in the child's care, including health, education, social care and other Local Authority bodies.
Help us to prevent more child deaths in the future by becoming an Asthma Friendly School. Intervention at an early stage will help to improve the management of children with asthma, improve poor attendance and identify and support those children who are unable to join in with daily school life due to asthma symptoms.
What does this mean for your school?
'Asthma Friendly School' status will be awarded annually to schools achieving the following:
• Named 'Asthma Champion' – individual responsible for asthma in school
• Responsible for linking with community asthma services
• Attends annual Schools Asthma Workshop
• Register of all known asthmatics
• Clear asthma policy
• Accessible inhalers for all children with asthma
• Annual whole school staff training – minimum of 85% staff attendance, can be completed online
• Display of emergency plan
• Emergency Inhaler Kits
• Annual asthma audit completed
We advise sending 1-2 members of staff to this training event to become your asthma champion within the school.
All schools within the Frimley Health catchment area will receive an invite to this training, there will be regular training dates throughout the academic year in two locations.